Notes For Parents:
March is reading Month! Please encourage your child to read 30 minutes a night and fill out their log! Next week Thursday is PJ day as we celebrate our last day of March is Reading Month!
If your child is leaving early next week make sure to tell the office, and please let me know so I can make sure your child doesn't get behind with any material.
Next week Thursday we will be showing the reproductive health video. Please look at this letter if you have any questions.
Weekly Highlights:
Math: This week we learned how to identify equivalent fractions using fraction bars and number lines as well as 3 different ways to use multiplication to find equivalent fractions. We also learned how to simplify fractions. Today we began the first portion of our test. We are dividing it into two portions. Decimals will come after Spring Break!
Writing: This week we continued to work on literary essays. We have been focusing on our craft and developing the structure of our essays. Next week we will publish!
Reading: This week our book clubs explored the locations of their novels on Google Earth and looked at historic pictures of the towns that show up in their books to help them imagine what it actually looked like during the 1940-1960's. We have explored how different characters use their power by making difficult choices. We also looked at different examples across our text to support the theme in our stories.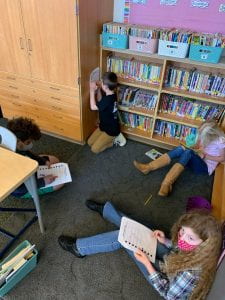 Family Time
Mindful Maker Award: Olivia!
Class Leader: Kayler!
Quote of the Week: Zach
Have a great weekend!