Notes For Parents:
March is reading Month! Please encourage your child to read 30 minutes a night and fill out their log!
Monday we will be celebrating Down Syndrome Awareness Day. Students are encouraged to wear crazy socks to support awareness.
Mr. Waldie will be sending home a letter about MSTEP information that pertains to 4th grade.
Weekly Highlights:
Math: More fractions! We have started another unit in fractions. We have been comparing fractions with different denominators.  Students can identify fractions on a number line and compare different fraction values. This week we looked at how size of a part of a fraction will depend on the size of the whole. Today we had the opportunity to see how different fractions can be equivalent. We used Hershey's candy bars to experiment with equivalent fractions. Of course at the end we ate the chocolate!
Fraction Fun!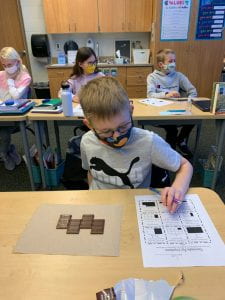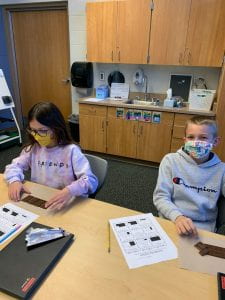 Writing: This week students have started writing in their digital journals. Each day there is a new writing prompt that they use to create a written response. They have really enjoyed this new fun way of sharing ideas. We have also worked on reading different picture books on Epic to identify the theme and write a literary essay using evidence from the story to support our claim. Students have been doing an amazing job with these!
Reading: This week our book clubs have looked at identifying the themes in their story and how minor characters can support these big ideas. We have also looked at why different characters have different perspectives. Students were each able to pick a historical topic that related to their books and do some research. They learned more about the Civil Rights Movement.
When it is sunny and warm in March, we have to read outside!

Family Time
Mindful Maker Award: Lyla!
Class Leader: Macy!
Quote of the Week: Cruz
Last week at Family Time:
Quote of the Week: Evie!
Class Leader: Olivia!
Mindful Masker: Hailey

Enjoy this beautiful weekend!