Notes For Parents:
I am looking forward to meeting with you all next week at our Zoom Parent Teacher Conferences.
March is reading Month! Please encourage your child to read 30 minutes a night!
Weekly Highlights:
Math: This week we continued to learn about fractions. We learned how to multiply whole numbers by fractions. We also continued to practice solving word problems with fractions! Today we used Smarties candy to solve questions about fractions. The best part, eating the candy at the end! We will be testing our knowledge on all things fractions next week!
Fraction Fun!
Kahoot Game!
Writing: This week we read a short story called Stray. We worked on creating a thesis to identify the theme of the story. We have worked on creating introduction paragraphs that include evidence from the text to support our claim.
Reading: We started new book clubs. We will still be studying historical fiction, but now are books have a focus on Civil Rights. We are very excited as we start these new books!
Mystery Reader: Mrs. Gates
Family Time
Mindful Maker Award: Jay!
Class Leader: Sam!
Quote of the Week: "No act of kindness no matter how small is ever wasted." goes to Braylee.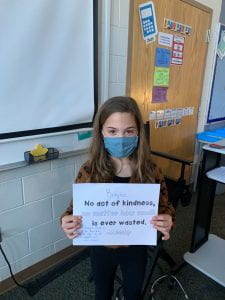 Have a great weekend!