Notes For Parents:
 PE CARES FOOD DRIVE ends Nov. 18 at NOON! Thank you to everyone who has already brought in donations! If you are able please have your child bring in any non-perishable food items for Love your Neighbor (previously Love Inc.) in Hudsonville.Food items to consider are canned vegetables and fruits, pasta, rice, baked beans, black beans, kidney beans, peanut butter, tuna fish, etc. (please no ramen noodles, and please do not break apart packaged food)
Thank you again for your help!
I am looking forward to meeting with you all next week during our Fall Conferences! 🙂

Save the date for the Holiday Program. Put

Tuesday, December 7

on your calendar!

Book Fair

will be Nov. 15-19. This is also the week of conferences so the book fair will be open the two nights of conferences (Nov 16 and 18 from 4-8). Here is the website for the book fair if you want to set up the EWallet.

https://www.scholastic.com/bf/georgetownelementaryschool1
Math: Look out for students multiplication math reviews which will be coming home next week. Please have them look over any of the problems that are still tricky for them to solve. We will work on our multiplication test next week!
Writing: Students have been working on generating and planning their realistic fiction stories. We have worked to create a story mountain which includes a problem and solution. Students have done a fabulous job creating believable characters and interesting and creative story lines. We are very excited to start drafting the stories this coming week!
Reading: This week we have focused on reading nonfiction texts. Students have already learned so much from their books. They continue to be curious, ask questions, wonder, and learn from their books. This week we focused on identifying the main idea of the text.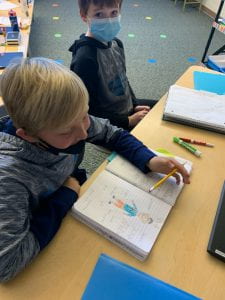 Family Time:
Mindful Masker: Carter
Quote of the week: Beny