Notes For Parents:
Today your child brought home their Star Progress Report. Please make sure to take a look at this to see one snap shot of your child's progress this year.
Georgetown will hold Zoom conferences on 3/8 & 3/10. I will be sending out a Calendy sign up next week so you can schedule a time that works well for you. I look forward to meeting with you all soon to talk about your amazing children!
Please make sure your child is reading for 30 minutes each night!
Weekly Highlights:
Math: This week we learned about fractions!  We have been working on adding and subtracting fractions with like denominators. We also learned about mixed fractions and improper fractions.
Writing: We have started our unit on literary essay's. Big, tough stuff happening in 4th grade. We used mentor texts to explore what a well done literary essay looks like.
Reading: We finished Number the Stars and our WWII book club books. This week we learned about identifying themes or big lessons in the story. We also learned about asking how  historical events can affect the characters in our books.
Twin Day fun!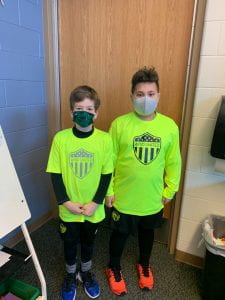 Family Time
Mindful Maker Award: Mason
Quote of the Week: "Stand up for what is right even if you are standing alone" goes to Aysia.