Notes for Parents
We love and so appreciate all the help that we have gotten from parent helpers! Please check out this link if you would like to be a take home book helper! We need some spots to be filled and would greatly appreciate the help!
KIDS HEART CHALLENGE:  Register Today!
We will have our Valentines Day Party on Friday. We will be exchanging Valentines cards during our party. The students do not need to bring a Valentines box we will be decorating a bag at school!
Celebrations
Jack got our quote of the week this week for being such a hard worker and for never giving up!
A few students have been Heart Attacked this week! All the students will be surprised with heart notes and a few sweet treats before Valentines day.
Play Day
Play day was such a success! The kids were able to spend the day using their imaginations, being creative, working together, problem solving and having fun with their class family. It was so fun to watch them explore and play! They really can learn so much from unstructured time.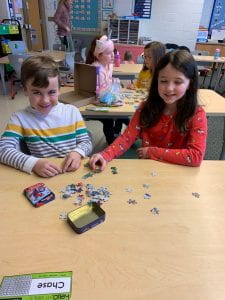 Our Learning
Reading–  We practiced working with our partners to be the bosses of our reading. We worked on doing something at the end of our book with our partner. We asked questions like… "I wonder"…" This part of the book made me feel"… "Why do you think that happened"… and more!
Writing–  This week started our final drafts of our Convincing Reviews Unit. We will be wrapping up next week!
Math–  We reviewed for our math test and then took our Unit 4 Test today! Your child will be bringing back their test next week after we do test corrections!
Word Study–  We started a new unit in Word Study. We will be practicing how to be word builders. Just like constructing a building that is done piece by piece we need to tackle tricky words and break them up piece by piece and build them back together.
We made heart notes about some of the things we love about Georgetown to hang up in our hallways! We love the amazing place where we get to learn!
UPCOMING DATES:
Monday, February 10
Tuesday, February 11
Wednesday, February 12
Thursday, February 13
Friday, February 14

ART
Valentines Day Party 12:30-1:45